Delivery of AD230 Pasture Drill
Yesterday Cowra Farm Machinery delivered and set up one our new model AD230 Series Agrowdrill. Pictured above is Jack Hartgers from Cowra Machinery Centre, and the new owners, Chris and Lloyd Baker of Panura, with their new AD230 set up behind their New Holland TL90 Tractor. The Baker Family farm over 3000 acres, predominately grazing sheep with some cattle.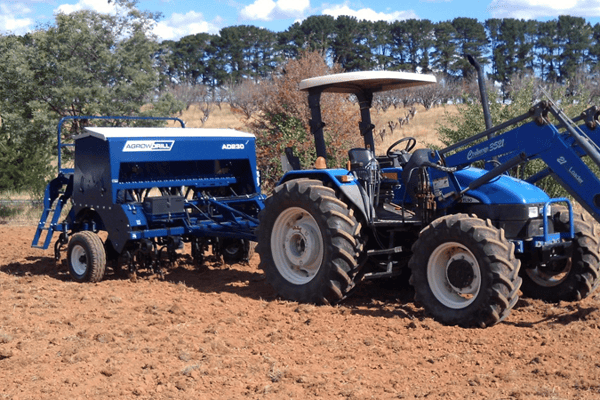 This model is a 20 Row, twin box, sowing at 150mm (6") spacings, giving a sowing width of 3 metres. Cowra Machinery Centre sales representative, Jack Hartgers, has sold and installed many Agrowdrills over the years and has his own Agrowdrill seeder on his farm. He is more than impressed with this new model, noting the seed/fertilizer box windows, strength of design with 100mm x100mm x 6mm RHS toolbars, with sowing over 4 rows for better trash clearance.
We hope the new AD230 will give the Bakers many years of impressive work! If you would like more information you can read about our AD230 by following this link.
Or you can talk to the team at Cowra Machinery Centre or contact our head office for more information.
---